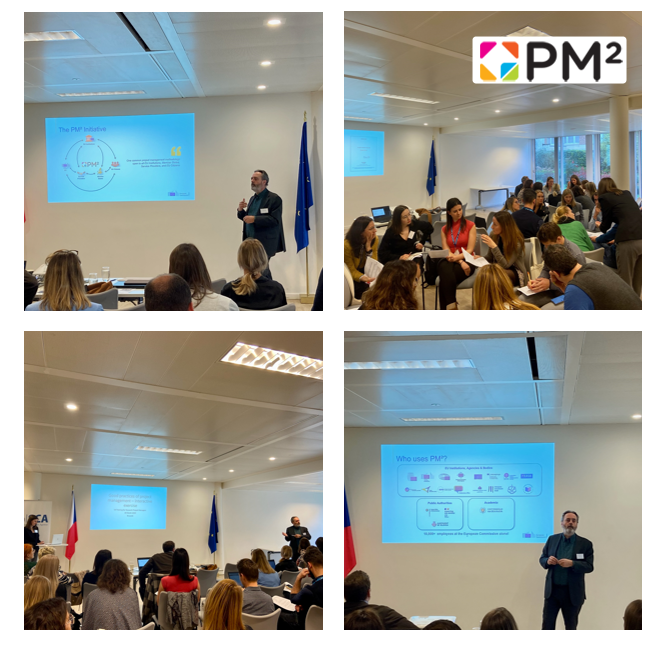 On Thursday 30 March, PM² Ambassador Marc Berghmans was invited to present the benefits and good practices of PM² at the 13th edition of the 'V4 Training for Research Project Managers' capacity-building event in Brussels.
Organised by the Czech Liaison Office for Research, Development and Innovation (CZELO); the National Research, Development and Innovation Office of Hungary (NRDIO); the Slovak Liaison Office for Research and Development (NRDIO) and the Polish Science Contact Agency (PolSCA); the event consisted of presentations and workshops on European research and innovation sector, project management and capacity support for researchers in their organisations. 
Targeted to research project managers, the main purpose of the training was to increase the professional capacity of participants by providing targeted information about the EU policies that have an impact on their work, enhancing their networks and networking skills and creating opportunities to learn from other organisations' best-practices.
As part of the 3-day spring edition of the training, Marc presented an overview of PM², highlighting the benefits from using the European Commission's official Project Management methodology. Although developed with the needs of the European Institutions in mind, Marc stressed that the methodology can be tailored and used in any type of project, including EU funding projects. Following the presentation, participants were invited to take part in a hands-on exercise and were guided on how to complete a 'Project charter', the document that defines the objectives, scope, and stakeholders of a project. Participants worked in teams and once completed, were invited to present their work and received feedback from other teams.
The training was attended by members of the Visegrad Group countries and from the IGLO (Informal Group of RTD Liaison Offices) and was followed by a networking reception.
Details
Publication date

10 April 2023

Author