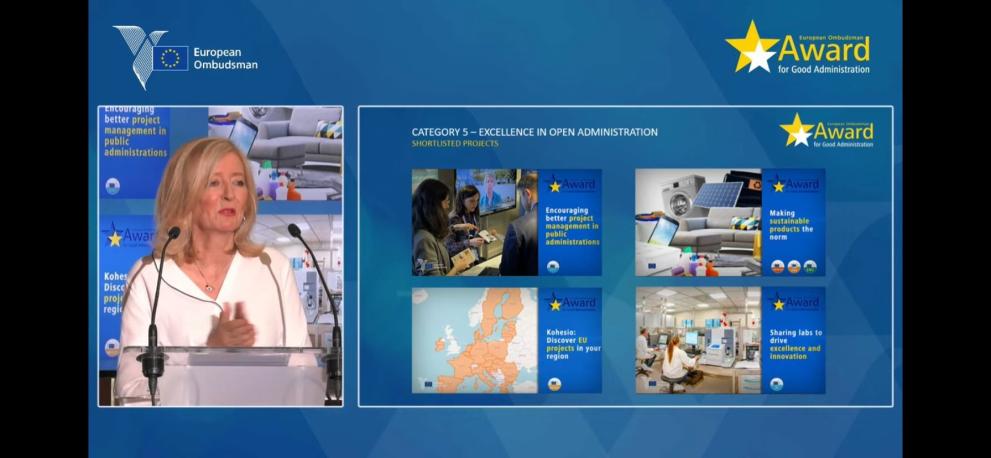 On 28 June 2023, PM² was shortlisted among the top four projects in the 'Excellence in Open Administration' category, in the fourth edition of the European Ombudsman Award for Good Administration.  From the 57 projects that were nominated for the Award, 11 made it to the same category, with winner being 'Kohesio: Discover EU projects in your region', a project from Directorate-General for Regional and Urban Policy (DG REGIO).
The award took into consideration all the work done in 2021-2022, which included the publishing of four guides on the Publications Office of the European Union, the inclusion of PM² in the European Interoperability Framework (EIF) Toolbox , the addition of PM² as essential knowledge for the Project Manager according to the European Skills, Competences, Qualifications and Occupations (ESCO) multilingual classification and the provision of eLearning modules on the EU Academy.
Developed at the European Commission, the PM² Project Management Methodology is used by most European Institutions, bodies and agencies.
The European Ombudsman Award for Good Administration
The Award recognises actions by the EU public administration that have a visible impact on the lives of citizens. Introduced in 2017, the Award aims to recognise excellence in EU public service and encourages the sharing of good ideas and best-practices.
Alain Van Gaever, Head of Sector, DIGIT.A.5, European Commission said: "It was an honour for us to be nominated alongside so many interesting projects that have a direct impact on the lives of European citizens, and to have made it to the top four in our category is a reflection of our work in contributing to an efficient way of managing projects"
Marc Berghmans, PM² Ambassador, DIGIT.A.5, European Commission said: "We are delighted to feature amongst the shortlisted projects in our category and it reiterates the importance of having a common methodology to efficiently manage significant investments in projects, to have clear roles and responsibilities and to reduce risks.  Thank you to the Centre of Excellence in PM² for their hard work, which has resulted in this wonderful achievement!"
The Centre of Excellence in PM² would like to thank everyone who supported their nomination to the award by actively voting.
More information
European Ombudsman Award for Good Administration
Details
Publication date

28 June 2023

Author