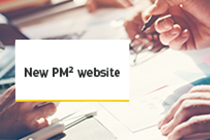 The European Commission's Centre of Excellence in Project Management (CoEPM²) launched its new website earlier this month, bringing together the offering, publications, and training under one newly designed home: https://pm2.europa.eu. The revamped website offers easy access to essential information about PM² and the related offering, including PM²-Agile, PM²-Programme management, PM²-Portfolio management and training. Whether you are a PM² expert or interested in learning more, the new website provides all the information you need in fewer clicks.
Developed with the user experience in mind, the website is based on the Europa Web Publishing Platform, a tool that aims to make the European Commission's web presence more coherent, relevant, and cost-effective. The simplified information, clean design and structured content make it easier to find information quickly.
Alain Van Gaever, Head of Sector, DIGIT.B.4 said: 'We are happy to share our new website today, a channel that greatly helps us improve our communication about the PM² methodology with Member States and European citizens. We are open to continuous improvement and would welcome any feedback that can help us improve the site.'
The new website is updated on a regular basis with news, publications, and training information.
Enjoy exploring the website and let us know what you think!
Details
Publication date

1 October 2022

Author