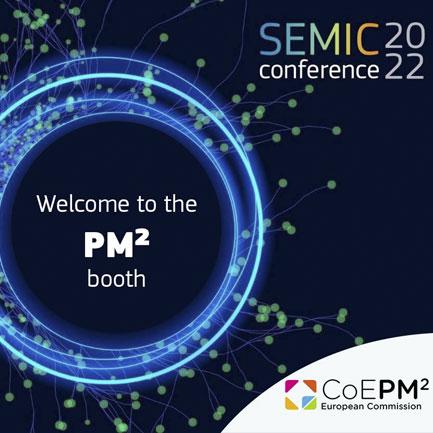 Following two digital editions, the annual semantic interoperability conference 'SEMIC 2022' took place  in Brussels on 6 December. Organised by the Interoperability Unit at DIGIT in collaboration with the Czech Presidency of the Council of the EU, the event was titled SEMIC: Data Spaces in an Interoperable Europe and focused on the implementation of data spaces.
The team at the Centre of Excellence in PM² (CoEPM²) were happy to have been selected to host a booth during the event, providing a great opportunity to showcase the PM² methodology to participants from the European Institutions, public and private sector. Many participants showed their interest in PM² and echoed the team's vision of a common methodology as an enabler for digital transformation. 
We would like to extend our gratitude to the organisers of the event, with whom we work in close collaboration via the  Joinup platform and the Interoperable Europe Academy. 
For more information on SEMIC, please visit https://semic2022.eu/
Details
Publication date

7 December 2022

Author