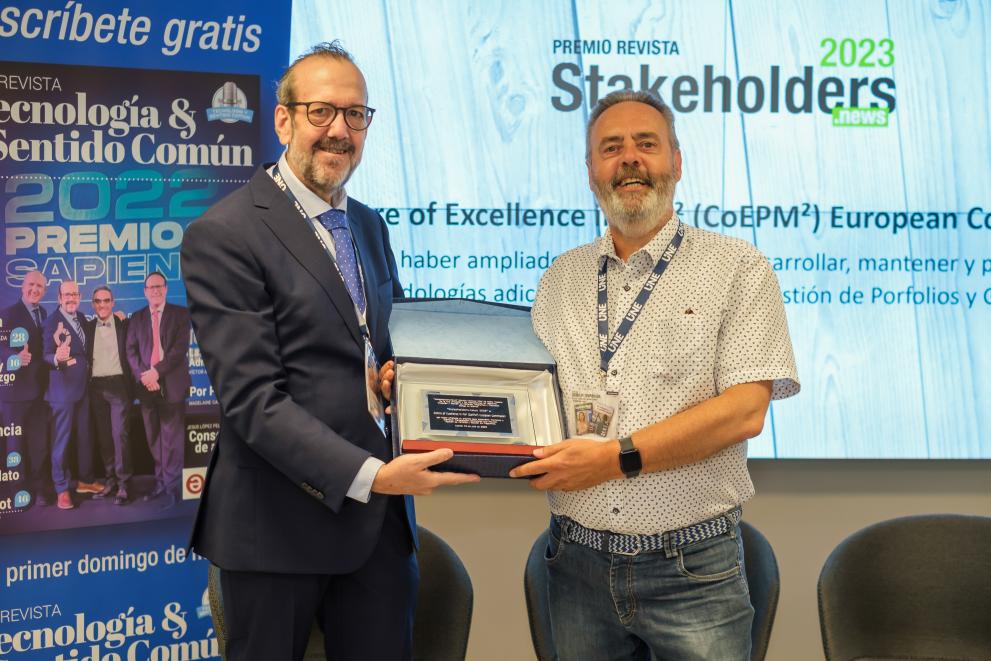 On Wednesday 13 July 2023, the closing event for the second season of the Stakeholders.news magazine took place in Madrid at the headquarters of UNE, the Spanish Association for Standardisation. Presented by Javier Peris, Business&Co. Chief Knowledge Officer and Stakeholders.news Director, alongside Paloma Garcia Lopez, Standardisation and Working Groups Director, UNE; the event brought together Directors from public administrations and private companies.
During the event, roundtables were organised to look back at some of the key articles the magazine has published during this season, including on issues such as changes around the workplace in the coming decades, resilient organisations and 'TecnoTransformation'.
Javier Peris then awarded the 'Stakeholders.news 2023' to Marc Berghmans, PM² Ambassador, who received the award on behalf of the Centre of Excellence in PM². The award recognises the important work the CoEPM² has done in developing, maintaining, and promoting PM², PM²-Portfolio and PM²-Programme management beyond the European Institutions.
The award follows Marc Berghmans' feature interview in the magazine in November 2022, where he discussed his role as PM² Ambassador and the need for developing publicly available PM²-Programme and PM²-Portfolio guides.
Stakeholders.news magazine is published every third Sunday and targets and audience of Directors and Professionals working in government, management and direction of portfolios, programmes and projects in Spain and Latin America. Access to the magazine is free and reaches over 20,000 monthly downloads.
Marc Berghmans, PM² Ambassador, European Commission said: "It is an honour for us to receive this award, and I would like to extend my gratitude to the magazine for their important work in promoting the use of the PM² methodologies for the efficient management of projects, programmes and portfolios".
Javier Peris, Stakeholders.news Director, said: "It is an immense pleasure for the entire team here at the magazine to recognise the European Commission's Centre of Excellence in PM² with the "Stakeholders.news 2023" award, not only for the important work they have been carrying out but also for having expanded its scope to develop, maintain and promote additional methodologies including Portfolio Management and Programme Management."
The guides developed by the Centre of Excellence in PM² are all publicly available via the Publications Office of the European Union.
For more information about the event (in Spanish) please visit https://stakeholders.news/ipages/flipbook/revista-stakeholders-st019-julio-2023 (page 52-58).
Sources
Details
Publication date

21 September 2023

Author