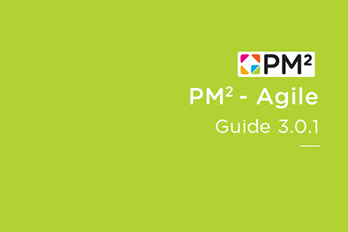 Following the European Commission's (EC) strategy of bringing the methodology and the overall PM² offering and its benefits closer to its broader stakeholders and user community, the EC's Centre of Excellence in PM² (CoEPM²) has today released the first-ever publicly available PM²-Agile Guide. The new guide replaces the, so far, internal version and incorporates extensive feedback, making its approach highly relevant not only to the European Institutions but also to the external community.  
Given the increasing adoption of Agile methods across organisations worldwide, this guide aims to support teams in becoming even more effective when delivering high-quality solutions, manage changing priorities and ultimately lead to an increase in productivity and project transparency. Developed as an extension of the well-established PM² Project Management Methodology, this guide has been created for: 
Existing Agile practitioners in search of a framework to support them in the integration of Agile practices into their existing corporate structures.  
Organisations already using PM² who are looking to apply Agile values and principles into their ways of working. 
Anyone interested in adopting Agile practices into their work. 
Even though PM²-Agile primarily addresses the needs of software development projects, most of the practices and tools and techniques included in this guide are applicable to non-IT projects, and this is reflected in the PM²-Agile Mindsets.  
Key Elements 
The guide provides users with: 
A common vocabulary to facilitate communication between project teams and stakeholders. 
The PM²-Agile model. 
The PM²Agile lifecycle. 
The basics of Agile practices.  
The integration of Lean UX and Lean StartUp Model concepts and their impact on the PM²-Agile lifecycle. 
An easy-to-use requirements model to support PM²-Agile. 
A high-level overview of recommended Tools & Techniques is included and the detailed version of these will be published in Q4 2021.  
PM²-Agile both extends and enhances the PM² Methodology with Agile principles and practices and provides harmonisation between these practices and corporate governance, programme management, operations, enterprise architecture and interoperability. 
PM² & PM²-Agile are supported by the European Commission's ISA² Programme. 
For more information, please visit the PM² Portal, dowload the guide from the Publications Office of the European Union and do not hesitate to %20EC-PM2

ec [dot] europa [dot] eu (contact the CoEPM²) should you have any questions, comments or feedback. 
Details
Publication date

7 July 2021

Author