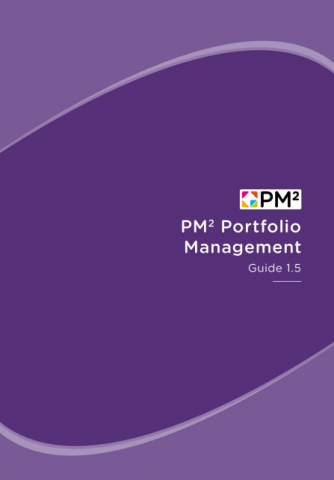 The European Commission's Centre of Excellence in PM² (CoEPM²), in collaboration with the Council of the European Union's GSC.SMART-Digital Services publish the 'PM²-Portfolio Management Guide'. This marks the second fruitful collaboration between these European Institutions that enable professionals to better manage and monitor their portfolio of programmes and projects.
The publication, aimed at Senior Management and Project Management Practitioners, provides clear and concise guidelines to effectively implement elements of the PM²-Portfolio Management (PfM) methodology within organisations.
PM²-Portfolio Management (PM²-PfM)
Considered as an extension of PM², the purpose of the PM²-PfM Guide is to enable organisations to better manage their portfolio of programmes and projects and report to Senior Management and relevant Governance Bodies. This is achieved by providing a set of governance guidelines, tools, and techniques to help Portfolio Managers in their tasks.
PM²-PfM incorporates elements from a range of globally accepted portfolio management best-practices,  described in standards and methodologies, as well as relevant European Commission communications and operational experience.
In short, this new guide is about selecting the optimal mix of projects and programmes to align the organisation's investments with the strategy to maximise the organisation's benefits.  By allocating the adequate resources and regularly collecting accurate and relevant information, portfolio decision-making will be properly supported.
Commenting on the launch of the guide, Alain Van Gaever, Head of Sector at The European Commission, said, "For many years, we have been working collaboratively with other European Institutions supporting the implementation of project management methodologies and we are delighted to co-author this latest guide with the Council of the European Union. By working together, we hope to create shared value by bringing our joint experience in the successful management of Portfolios"
Highlighting the importance of collaborating with the European Commission, Daniel Cabrero, Head of Unit at the Council of the European Union said, "The collaboration with the European Commission to evolve PM² raised the awareness and knowledge in the Council on how to manage our programmes and projects even better. This led to a clear improvement in the products and services we provide every day, raising the satisfaction of our internal and external customers".
The PM²-PfM Methodology provides:  
A portfolio governance structure;
A set of portfolio management processes and activities;
Artefact templates; Guidelines for applying the processes and using the artefacts;
A set of effective mindsets.
Download your guide from the Publications Office, and contact the team should you have any questions.
Source
Details
Publication date

16 May 2022

Authors